Innovative Winston Single Monitor Sit-Stand Workstation
We currently have 20 in stock.
Description
Mount a 30" monitor on the Winston single monitor workstation. This adjustable monitor stand has a freestanding base which instantly turns your current desk into a standing desk. Quick installation without needing to drill makes this adjustable desktop workstation great for glass desktops.
A 30" x 18.3" work surface is ideal for desks smaller than 24" deep, while accommodating keyboard, mouse, phone, documents, and other necessary work items. This adjustable workstation offers 17" of height adjust to accommodate a variety of users and give you the freedom to easily alternate between sitting and standing throughout the day. 
Excessive sitting is associated with a number of chronic diseases and conditions. Standing with a Winston sit-stand workstation for just three hours a day can offer the same health benefits as running 10 marathons a year and can extend your life by two years. Standing more also counters health concerns such as reducing the risk of obesity, type 2 diabetes, cardiovascular disease, and cancer.
This tabletop standing desk was engineered for stability with the industry's first locking cylinder to keep your workspace in place and eliminate wobbling while you work. A sleek, professional design means the Winston workstation fits into all types of offices and businesses, from home to corporate.
Related Products
| | |
| --- | --- |
| Part Number | Description |
| WNST-1-104 | Winston Single Freestanding Sit-Stand in Black, supports 7 - 20 lbs |
| WNST-1-124 | Winston SingleFreestanding Sit-Stand in Silver, supports 7 - 20 lbs |
| WNST-1-248 | Winston Single Freestanding Sit-Stand in White, supports 7 - 20 lbs |
Technical Drawing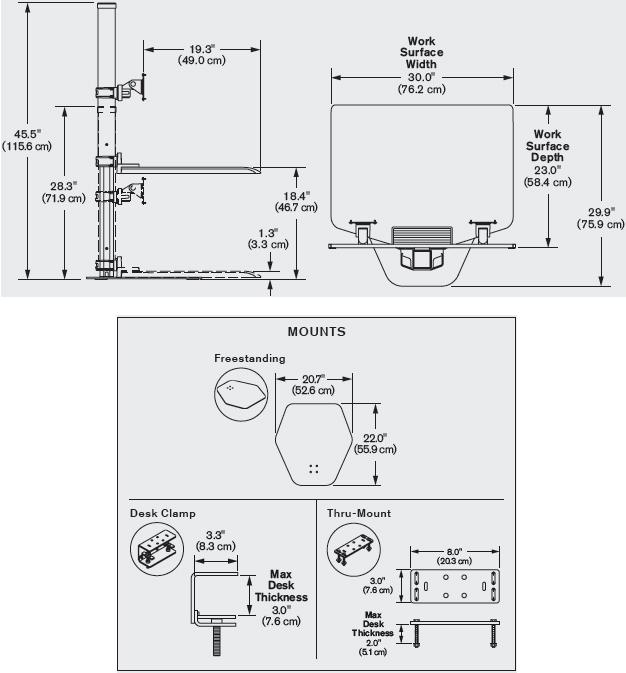 Technical Specifications
| | |
| --- | --- |
| Vertical Height Adjustment | 17" (43.2 cm) |
| Monitor Tilt | 200 degree |
| Monitor Pivot | Landscape to portrait |
| Monitor Compatibility | VESA 75mm and 100mm |
| Cable Management | Cables are clipped to column |
Features
Quick, easy monitor install. Take the work out of adjusting and replacing monitors. Simply attach, adjust, and remove all at the face of the beam. No need to slide monitors to remove.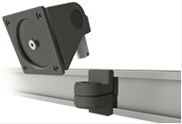 Engineered for stability. Designed to accommodate standing work without the distraction of unwanted movement.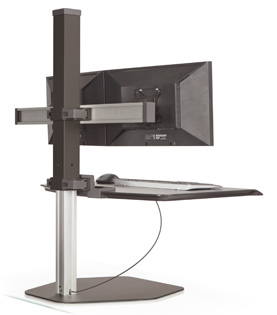 Expansive work space. Large natural wood surface and convenient storage tray allow you to bring all necessities with you when you stand.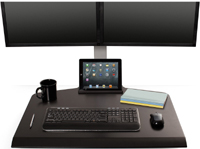 Upgrade your space. Retrofit your existing desk into a healthy workspace with two easy mounting options: freestanding or desk clamp.

Seamless height adjustment. Features a 17" range of vertical height adjustment and a locking cylinder to keep the workstation in place. No manual adjustment needed.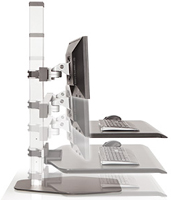 Cable management. Cable clips in the column and beam keep the cables organized and out of the way.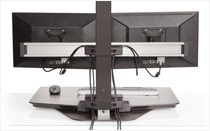 Ethical manufacturing. Winston is assembled in the USA using components created through a green manufacturing process.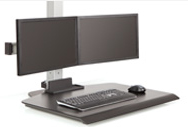 Highlights
Standing workstation: Comes with a Freestanding base in Black to easily convert an existing desktop into a standing workstation
Quick installation : Freestanding base does not require drilling a hole in the desktop; Great for glass desktops
Weight capacity : 7 - 20lbs
Large worksurface: 30" x 18.3" worksurface can accomodate keyboard, mouse, phone, writing materials
Compact worksurface is ideal for desks smaller than 24" deep
Vertical adjustment: 17" height adjustment
Please see, if you want a dual monitor workstation
Please see, if you want a Winston Electric Workstation
| | |
| --- | --- |
| Model | WNST-1-104, WNST-1-124, WNST-1-248 |
| Manufacturer | Innovative LCD Arms |
| Part Number | WNST-1-104, WNST-1-124, WNST-1-248 |
| | |
| --- | --- |
| Color | 104 - Vista Black, 124 - Silver, 232 - Linen White |
| Height Adjustment | Vertical 17" (43.2 cm) |
| Tilt | 200 degree |
| Mounting Pattern | VESA 75mm and 100mm |
| Monitor Weight | 9 - 48 lbs (depending upon the model) |
| Worksurface Dimensions | 30" W x 18.3" D (Keyboard tray & worksurface combined) |
| Desk Type | Desk Mount |