Innovative TBLK-DC Tablik - Tablet and iPad Arm Desk Mount
The product is out of stock
Highlights
Articulating Desk mount for tablets and iPads
Compatible with all tablets and cases
Supports tablets up to 3 lbs
Tablik's arm suspends the tablet above the desk for flexibility
Tablet attaches to the Tablik with a removable gel adhesive that allows for easy detachment
Easily attaches to the desk edge up to 1.6"
Horizontal range is 21" and vertical range is 21.25"
Attaches to the back of a monitor with an adapter for dual computing
Description
Introducing Innovative Tablik - a universal tablet and iPad arm desk mount that changes the way you interface with your tablet at work and in the home office. The Tablik arm mount suspends your iPad or tablet above the desk where it can be easily positioned for comfortable viewing or typing. Tablik can be mounted to your desk or to your monitor and enables one-handed tablet attach and release from the mount for increased mobility in the office.
How it works: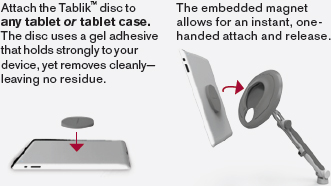 Technical Drawing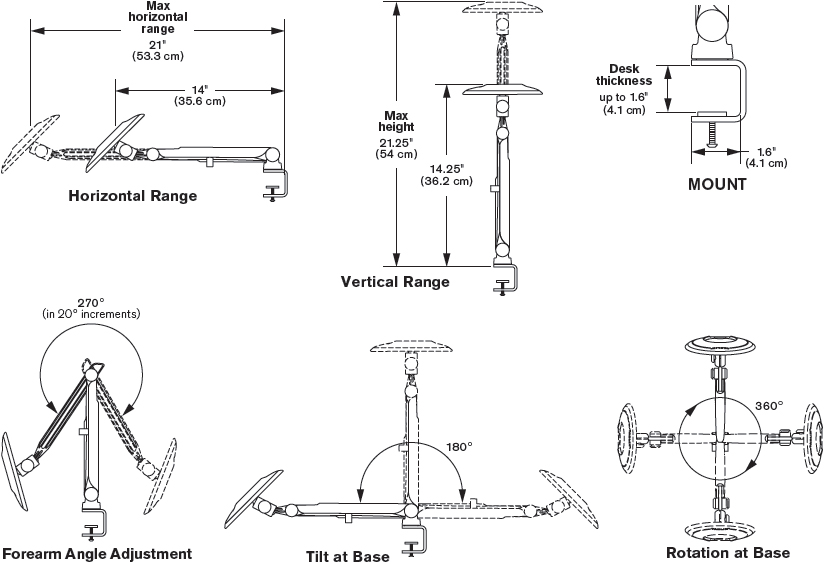 Technical Specifications
| | |
| --- | --- |
| Vertical Range | 21.25" (54 cm) |
| Horizontal Range | 21" (53.3 cm) |
| Arm Rotation | 360° at base, 270° at forearm axis |
| Tablet Tilt & Pan | 45° in any direction from center |
| Tablet Rotation | 360° |
| Cable Management | Cables clip beneath arm |
| Tablet Compatibility | Supports tablets and tablet cases up to 3 lbs (1.4 kg) |
Features
Arm mount provides flexible positioning of the iPad or tablet for display or input use.
Universal desk mount works with all tablets and tablet cases.
Revolutionary puck with clean, removable gel adhesive mounts to any iPad or tablet and any tablet case.
Grab-and-go interface that adheres tablet and puck to arm via magnet and allows for one-handed attach and release from the arm mount.
Arm mount quickly attaches to desk edge. Option to bolt through desk (hardware not included).
VESA mount option available for dual screen computing.
Exceeds BIFMA standards for technology mounting devices.
Comprised of 99% recyclable content.
| | |
| --- | --- |
| Model | TBLK-DC |
| Manufacturer | Innovative LCD Arms |
| Part Number | TBLK-DC |
| | |
| --- | --- |
| Color | Gray Dual Tone |
| Vertical Range | 21.25" (54 cm) |
| Horizontal Range | 21" (53.3 cm) |
| Rotation | Arm: At base 360 degree, at forearm axis 270. Tablet: 360 degree |
| Tilt | Any direction from center 45 degree |
| Weight Range | Up to 3 lbs (1.4 kg) |
| Mounting Options | Desk |
| Device | Apple |
| Device | Other |