Innovative Apple iMac VESA Single or Dual Sit-Stand Workstation
We currently have 25 in stock.
Description
Innovative WNST-APL-1 Winston for Apple iMac Single or WNST-APL-2 Apple iMac VESA Dual is a sit-stand workstation designed for iMac users with a VESA-compatible Apple iMac monitor. Locking cylinder provides stability while working. Expansive workspace is large enough to hold all necessary work tools.
Winston Workstation is energizing your body and inspiring your mind. Now Apple iMac users can join the standing revolution. Winston Workstation is now compatible with the Apple iMac stand, allowing iMac devotees to take advantage of all the health benefits standing while working offers without sacrificing Apple-specific programs or the user interface that works best for them.

Graphic design studios, architecture firms, and other offices using iMacs will be able to easily convert any desk into a healthy Apple iMac sit-stand workstation. Like the original Winston, Winston for Apple iMac seamlessly integrates into the day for a boost in health and wellness without disrupting workflow. The Winston Apple iMac sit-stand workstation comes with a white finish to complement the clean aesthetic of the iMac.
 Related Products
| | |
| --- | --- |
| Part Number |   |
| WNST-APL-1 | Winston Apple iMac VESA Single, supports 10 - 26 lbs (4.5 - 11.8 kg) |
| WNST-APL-2 | Winston Apple iMac VESA Dual, supports 15 - 36 lbs (6.8 - 16.3 kg) |
Technical Drawing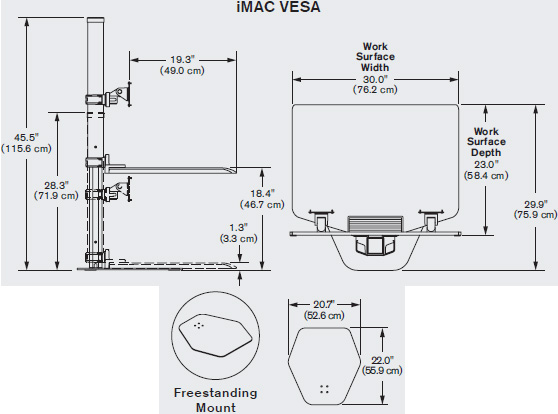 Technical Specifications
Color

White

Vertical Height Adjustment

17" (43.2 cm)

Weight Capacity

WNST-APL-1: 10 - 26 lbs (4.5 - 11.8 kg)

WNST-APL-2: 15 - 36 lbs (6.8 - 16.3 kg)

Cable Management

Cables are clipped to column
Features
Engineered for stability - Designed to accommodate standing work without the distraction of unwanted movement.

Expansive work space - Large surface allows you to bring all necessities with you when you stand.

Upgrade your space - Retrofit your existing desk into a healthy workspace.

Seamless height adjustment - Features a 17" range of vertical height adjustment and a locking cylinder to keep the workstation in place. No manual adjustment needed.

Cable management - Cable clips in the column and beam keep the cables organized and out of the way.

Ethical manufacturing - Winston for Apple iMac is assembled in the USA using components created through a green manufacturing process.
 Highlights
Freestanding sit-stand workstation for VESA Compliant iMacs
Comes with a freestanding base
Weight Capacity: for single workstation 10 - 26 lbs , for dual workstation 15 - 36 lbs
For NON VESA compliant iMac, please order 8502 -iMac Stand under "mounting options:
| | |
| --- | --- |
| Model | WNST-APL-1, WNST-APL-2 |
| Manufacturer | Innovative LCD Arms |
| Part Number | WNST-APL-1, WNST-APL-2 |
| | |
| --- | --- |
| Color | 248 - White |
| Weight Capacity | WNST-APL-1: 10 - 26 lbs (4.5 - 11.8 kg), WNST-APL-2: 15 - 36 lbs (6.8 - 16.3 kg) |
| Height Adjustment | 17" range of vertical |