Innovative 9194 Universal Expanding Large Display Wall Mount
We currently have 25 in stock.
Description of Innovative 9194
Innovative 9194 Expandable Large LCD Display Wall Mount up to 198 lbs. The wall mount allows the monitor to be tilted downwards up to -15 degrees for an improved viewing angle. An integrated level is included for fast and easy setup. The display may optionally be secured with a small padlock (not included).
Ideal for homes, conference rooms, stores, public areas, restaurants and more. Anywhere you need to mount a large-screen LCD or plasma monitor.
Technical Drawing for Innovative 9194 Large LCD Display Wall Mount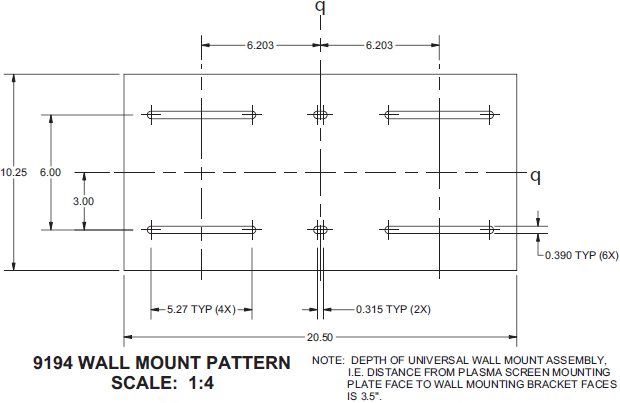 Features of Innovative 9194:
Expandable - accommodates flat panel displays up to 198 lbs.
Adjust screen tilt by -15 degrees.
Low profile - mount concealed behind display.
Includes integrated level to ensure correct setup.
Security option - accommodates padlock to secure display.
Mounts to drywall (studs) or concrete surfaces.
Technical Specifications of Innovative 9194:
| | |
| --- | --- |
| Monitor Tilt: | -15 degrees |
Mounting Surfaces:
Drywall (studs) or Concrete surfaces
Monitor Weight:
Up to 198 lbs