Description of Innovative 9130-S-28:
The Model 9130 Double LCD arm has foldable components. It adjusts vertically up and down along the 28" usable part of the pole (pole length is 29.2" before mount), whose outer diameter is 1 3/16".  The arm folds to fit about 3" of space, extends out 16" and has a weight capacity of 40 lbs. 
Various pole lengths are available or can be designed to fit any application you may be looking for. Call for information. Unique cable management allows cables to be tucked under forearm extensions. You will receive a 75MM VESA Bracket and a 100MM VESA Bracket with your set-up.
Technical Drawing for Innovative 9130-S-28-NM Long Reach LCD Pole Mount Arms with 28" Pole and 16" Horizontal Reach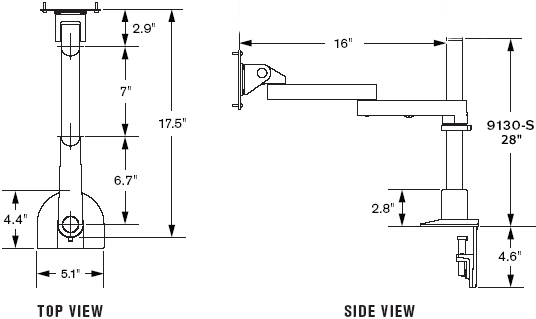 Features of Innovative 9130-S-28:
Specifications of Innovative 9130-S-28-NM:
Pole Size:
Useable Pole length 28" but 29.2" before mount
Monitor Tilt:
200 degrees
Monitor Pivot:
Landscape to portrait
Monitor Capability:
VESA 75 mm and 100 mm
Mounting Options:
FLXEmount, Slatwall, Wall, Through-Desk
Monitor Weight:
up to 40 lbs per monitor