Innovative 9130-D-28 Long Reach Dual Monitor Mount - 28" Pole
We currently have 25 in stock.
Description of Innovative 9130-D-28:
Comparable to our 9112-D model, this mount offers extended reach of 16". Monitor folds back to fit within 3" of the standard 28" usable part of the pole (length 29.2" before mount), whose outer diameter is 1 3/16". This mount's foldable arms are adjustable vertically along the pole and support 33 lbs per monitor. Each monitor is independently adjustable .
Various pole lengths and extensions are available or can be designed to fit any application you may be looking for. Unique cable management allows cables to be tucked under the forearm extensions.
Technical Drawing for Innovative 9130-D-28-NM Long Reach Articulating Dual LCD Pole Mount Arm with 28" Pole and 16" Horizontal Reach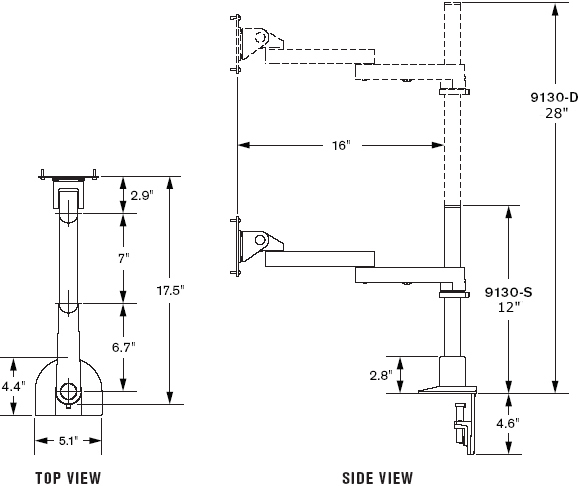 Features of Innovative 9130-D-28:
Standard 28" pole included. Call for custom size options.
Foldable arms are adjustable vertically up and down along the pole.
The arms can fold up to fit in about 3" of space and extend out 16" from the mount.
Users can position the LCD arm with the touch of a finger.
Arm rotates 360° at three joints, the tilt mechanism can tilt over 200°.
Cable management allows the cables to be hidden in the arm.
Accessory products are available for holding keyboards or notebook computers.
Adjust each monitor independently.
VESA-monitor compatible - 75mm & 100mm VESA adapters included. Please call for non-VESA options.
Can be combined with all Innovative mount options (sold separately).
Optional upgrade to quick install/release monitor bracket. Consult your sales rep for details.
Specifications of Innovative 9130-D-28-NM:
Pole Size:
Useable Pole length 28" but 29.2" before mount
Monitor Tilt:
200 degrees
Monitor Pivot:
Landscape to portrait
Monitor Capability:
VESA 75 mm and 100 mm
Mounting Options:
FLXEmount, Slatwall, Wall, Through-Desk
y be returned within limits of the Warranty. Non-defective Custom-configured Items are not returnable. All return must be made within 30 days of receipt.