Innovative 9113 Dual Side By Side LCD Desk Stand with 16" Pole
We currently have 25 in stock.
Description of Innovative 9113:
Model 9113 is a free-standing LCD mount which suspends 2 monitors above the work surface. Monitors may be independently pivoted and tilted for comfortable viewing. The 90° rotating pivot feature allows you to view the LCD in either landscape or portrait format. The weighted base enables quick setup - no drilling or mounting required.
Technical Drawing for Innovative 9113 Dual Desk Stand with Pivot and Tilt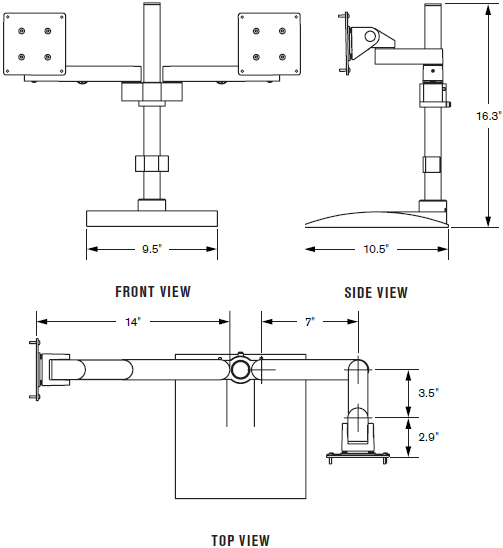 Features of Innovative 9113:
Position monitors at desired height along 16" pole.
Adjust each monitor independently.
Monitor tilter mechanisms can tilt over 200 degrees.
Aluminum base provides a secure platform.
VESA-monitor compatible - 75mm & 100mm VESA adapters included. Please call for non-VESA options.
Optional upgrade to quick install/release monitor bracket. Consult your sales rep for details.
Technical Specifications of Innovative 9113:
Horizontal Range:
14" from back of pole
Base Dimensions:
W: 9.5", L: 10.5"
Base Weight:
10 lbs
Monitor Tilt:
200 degrees
Monitor Pivot:
90 degrees Landscape to Portrait
Monitor Compatibility:
VESA 75 mm and 100 mm
Monitor Weight:
Up to 45 lbs per monitor