Related Products
| | |
| --- | --- |
| Part Number |   |
| 8326-19 | Vertical Wall Mounting Track System with 19" length and 4.36" width |
| 8326-13 | Vertical Wall Mounting Track System with 13" length and 4.36" width |
| 8326-31 | Vertical Wall Mounting Track System with 31" length and 4.36" width |
| 7Flex-104i | Horizontal 24" and Vertical 16" Range LCD Monitor Arm |
| 7000-1000-NM | Horizontal 24" and Vertical 16" Range LCD Monitor Arms, No Mount |
| 7500-1000-NM | Horizontal 27" and Vertical 18" Range LCD Monitor Arms, No Mount |
| 7500-800-NM | Horizontal 27" and Vertical 18" Range LCD Monitor Arms, No Mount |
| 7509-1000HY-NM | Horizontal 27" and Vertical 18" LCD Monitor Arms, No Mount |
| 8328 | Track Mount |
| 7019-NM | 7000 Series Articulating Keyboard Arm |
| 8318-RS90-180-104 | Rotation Stop can be setup at 90 or 180 Degree Angles |
| 8355-SM | Small 2-3" Wide CPU Holder |
| 8335-MD | Medium Size 3-5" Wide CPU Holder |
| 8335-LG | Large Size 5-7.5" Wide CPU Holder |
| 8339 | Large Keyboard Tray |

General Information
Innovative 8326-19 Vertical Wall Mounting Track System with Cable Management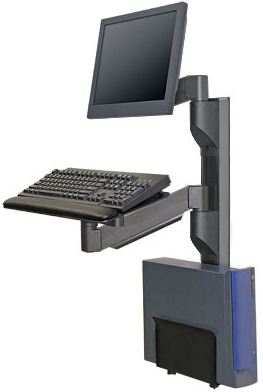 Above Picture is Shown with the following Optional Parts: 7000 LCD Arm, 7019-NM Keyboard Arm, and 8335-MD Medium CPU Holder.
The above picture is shown with the following optional parts: 8328-104 Track Mount, 7019-NM-104 Keyboard Arm, 8339-104 Keyboard Tray, and 8335-LG-104 Large CPU holder.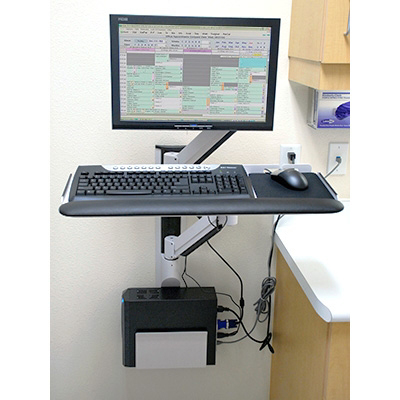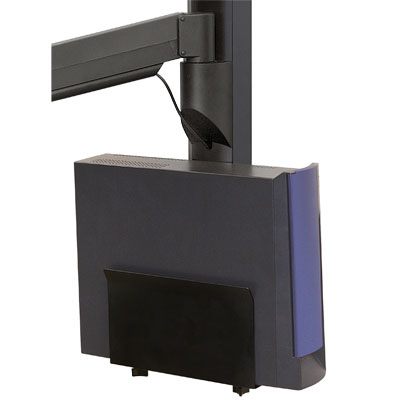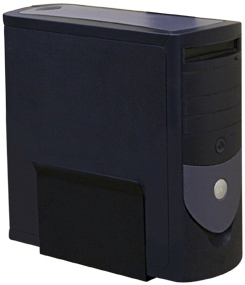 8335-LG Large CPU Holder
Features of innovative 8326-13
Available in standard lengths of 19" (13" and 31" lengths also available)
Configure with your choice of LCD arm, keyboard arm or CPU holder.
Contributes to a clean and neat work area.
Prevents accidents and trip hazards which may damage equipment or harm staff.
Integrated cable management keeps cables organized and out of view.
of Innovative 8326 Wall Mount Track
Innovative 8326 Vertical Mounting Track provides an extremely space-efficient method of elevating your entire computer system. This configurable solution can be customized to meet your needs - incorporate flexible LCD arms, keyboard arms, even a CPU holder. Cables are routed through track, and hidden behind a cable channel.
Options
1) Comes in standard track length of 19". Please call for alternate track sizes.
2) Add any Innovative LCD arm. Specify the arm in addition to 8328 vertical track mount.
3) To add a keyboard arm, specify the model 7019-NM (7000 Series articulating arm with 8339 large keyboard tray) as well we the 8328 vertical track mount.
4) To support a CPU, specify the 8335 CPU holder.
The Wall Track Solution
Create a complete workstation that saves space. Innovative's vast offering of LCD arms means you can create a wall track system that is custom tailored to your needs.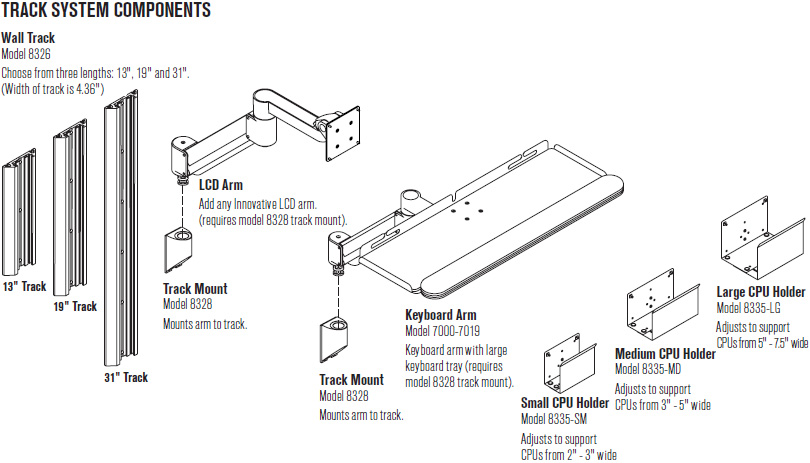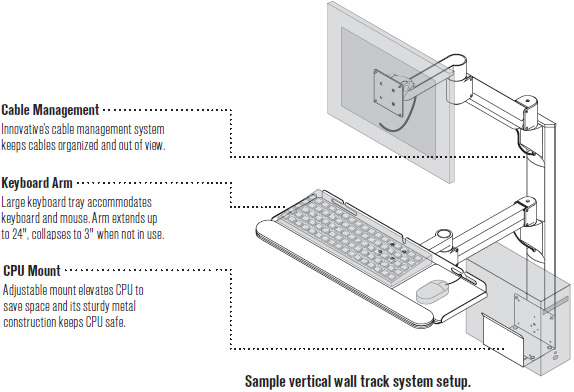 Specifications 

| | |
| --- | --- |
| Model | 8326 |
| Manufacturer | Innovative LCD Arms |
| Part Number | 8326 |