Innovative 8318 Large FLEXmount (Six in One)
We currently have 25 in stock.
Description
The ideal mounting solution. It's Innovative! Choose from six different configurations in 1 kit:
Desk Edge Clamp Mount
Panel System Rear Edge
Grommet Hole Clamp Mount
Thru-Desk Mount
Wall Mount
Reverse Wall Mount
This large FLEXmount version is compatible with Innovative's heavy-duty arms with extended shaft. The FLEXmount even handles mounting scenarios such as thick desk edges, desk edges with longer trim and surfaces with a small lip.
Technical Drawing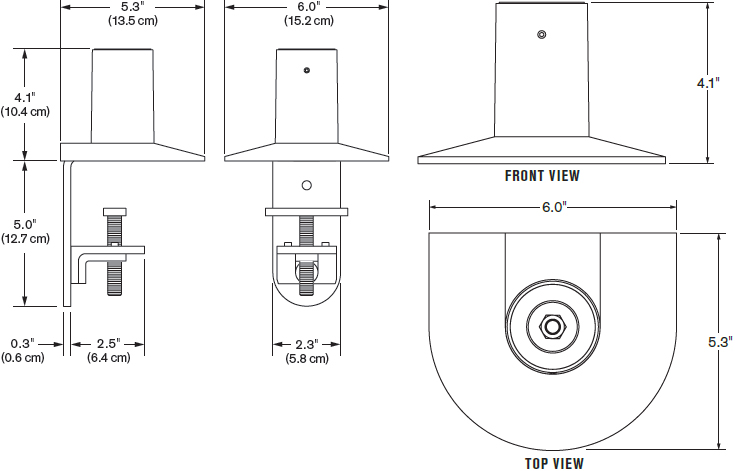 FlexMount Comparison Chart
| | | | | | |
| --- | --- | --- | --- | --- | --- |
| FlexMount | Height | Width | Depth | Weight | Compatible with |
| 8111 | 8" | 6" | 6" | 4 lbs | 7000, 7045, 9124-S, 9163-S, 3545, 7016-500hy, 7000-500-8424, 9130-S, 9130-D, 9114-S, 9114-D, 9112-S, 9112-D, 3500, 9136-D, 9136-S, 9120-S, 9120-D, 9140, 7011-8129 or 7011-8252, 9112-SWITCH-S, 9112-SWITCH-D, 9136-SWITCH-S, 9136-SWITCH-D, 9163-SWITCH-S, 9163-SWITCH-D |
| 8251 | 7" | 7" | 9" | 4 lbs | 7517 |
| 8318 | 9" | 7" | 7" | 4 lbs | 7500, 9105, 7500-Wing, 9105-XHD, 7616, 7516, 7520, 9198-4, 7601-14, 7500-Hydro, 9103, 9102, 9199, 9177-2, 9177-3, 9169-2, 9169-3-2P, 9169-4, 9169-D-3, 9169-D-4, 9169-D-2, 9169-2-2P, 9198-2, 9139, 7509 |
| 8374 | 8" | 6" | 6" | 3 lbs | 7Flex, 7500-8374 |
Specifications
| | |
| --- | --- |
| Model | 8318 |
| Manufacturer | Innovative LCD Arms |
| Part Number | 8318 |
| | |
| --- | --- |
| Color | 104 - Vista Black, 124 - Silver, 232 - Linen White |