Description of Innovative 8137:
This tray will work for any of the Innovative 7000 arms. Sturdy keyboard platform with padded wrist wrest.
Innovative 8137 LCD Keyboard Platform with Wrist Rest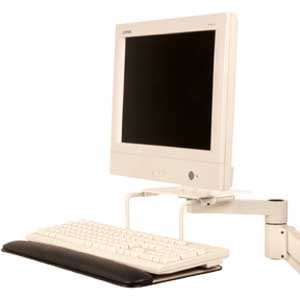 Features of Innovative 8137 Keyboard Tray:
Independent rotation & pivot between monitor and keyboard tray.

Includes 8131 Keyboard Adapter (included also with the 9140 data entry arm).

You can retrofit it into any arm, however it requires the 8131-52-10- back adapter.

 Mouse tray not available and you can not add one because has a wrist rest.
Highlights
Keyboard tray with wrist rest
18" wide and 11" deep
Requires 8131 keyboard adapter to attach to monitor arm
Does not have mouse tray due to wrist rest
Interested in a

 

bigger keyboard tray?