Innovative 7517 iLift Flexible Mount for Apple Display & iMac G5
We currently have 25 in stock.
SKU
7517-1000 or 7517-1500 BLK
Highlights
Monitor arm for iMacs, Apple Cinema displays (See Compatibility Chart under Downloads)
FLEXmount: 6 mounting options desk edge, thru-desk, wall, reverse wall, side bolt, grommet
iLift 7517 has 2 models - Weight capacity of 7517-1000 is 7-27 lbs, 7517-1500 is 13.5-44 lbs 
Horizontal extension: 27" horizontal reach
Foldability: Folds up with monitor to occupy 3" space
Description
Introducing the perfect accessory for Apple's brilliant iMac and Cinema Display...
Innovative 7517 iLift suspends the monitor weightlessly above the desktop, where it can be easily moved with one hand. Save space and work ergonomically by placing your monitor exactly where you need it. Compatibility - Please refer to our Apple Compatibility Chart (Downloads Tab) to ensure that you purchase the correct product for your Apple system.
Technical Drawing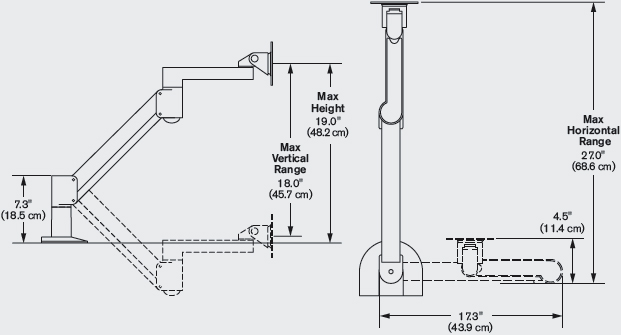 Related Products
| | |
| --- | --- |
| Part Number | Description |
| 7517-1000-NM | Vertical range: 18", Horizontal range: 27", Weight range: 7 - 27 lbs, No Mount |
| 7517-1500-NM | Vertical range: 18", Horizontal range: 27", Weight range: 13.5 - 44 lbs, No Mount |
Features
Compatible with all models:

 


* 20, 23 and 24-inch Cinema Displays select 7517-1000
* 17 & 20-inch iMac G5 select 7517-1000
* 30-inch Cinema Displays select 7517-1500
Monitor floats weightlessly; height, pivot and tilt may be adjusted with one hand.
Monitor may be extended up to 27 inches; arm collapses to about 3 inches.
200 degrees of monitor tilt.
Cable management keeps the work surface free of annoying cable clutter.
Provides additional security for monitor - removes the danger of monitor tipping over or slipping off desk.
FLEXmount with 6 mounting options, including desk clamp and thru-desk and wall mounting.
VESA-monitor compatible - 75mm & 100mm VESA adapters included. Please call for non-VESA options.
Requires purchase of VESA Mount Adapter kit, available through Apple dealers:
* Cinema Display: part # M9649G/A, iMac G5 (17" and 20"): part #M9755G/A
* iMac w/ iSight (24" only): part #MA473G/A
Technical Specifications
Vertical Range

18" (45.7 cm), +/- 9" (22.9 cm) from horizontal

Horizontal Range

27" (68.6 cm)

Rotation

360 degrees at three joints

Monitor Tilt

200 degrees

Monitor Pivot

Landscape to portrait

Monitor Compatibility

VESA 75mm and 100mm

Cable Management

Cables are concealed in arm

Mounting Options

FLEXmount, Slatwall, Wall, Thru-Desk

Monitor Weight/Model Number

7 - 27 lbs (3.2 - 12.2 kg) / 7517-1000
13.5 - 44 lbs (6.1 - 20.0 kg) / 7517-1500