Innovative 7500-Wing Dual Monitor Arm with 27" Reach
We currently have 25 in stock.
SKU
7500-Wing-1000-NM BLK
Highlights
Side-by-side or stacking dual monitor arm
Vertical adjustment of 18" (+/- 9") and horizontal reach of 28"
Weight capacity: 3.5 - 21 lbs
Tilt mechanism: 200 degrees
Weight of bracket wing: 6 lbs
Description of Innovative 7500-Wing Dual Arm:
Do you use two monitors? With the 7500-Wing, both monitors will float above your desktop, allowing you to quickly and easily adjust monitor height and position. Monitors can be positioned either side-by-side or one above the other.
Our adjustable wing bracket allows you to adjust monitors, and also allows rotation. Includes our spring-assist monitor tilter for effortless monitor motion. The 7500-Wing incorporates cable management - thread the cables right through the arm, keeping your work space clean and organized. The bracket works with all VESA 75/100mm monitors.
Innovative 7500-Wing Dual LCD Arm with Vertical/Horizontal Positioning (27 inch)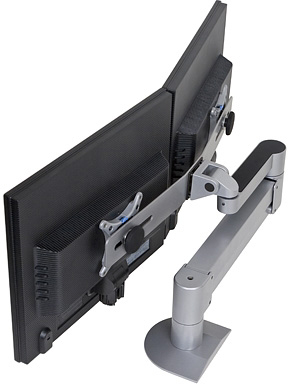 Features of innovative 7500-Wing-1000:
Monitors can be positioned horizontally (side by side) or vertically  (stacked one over another).
Monitors can be independently rotated.
Accommodates monitors up to 22" widescreen (note - monitors can not      exceed weight capacity of arm).
Monitor tilter mechanism can tilt over 200 degrees.
Gas arm "floats" monitors above desktop for instant height adjustment.
Quick-install/quick-release mechanism instantly and securely snaps  monitors into position
Includes cable management system - cables concealed in arm
Optional 2" and 6" extender tubes are available to raise monitor (see Extender Tubes under Available Accessories).
Technical Drawing for Innovative 7500-Wing-1500 Dual LCD Arms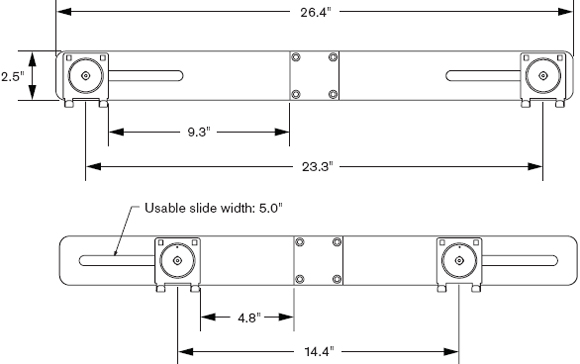 Specifications:
Max Monitor Width:
22" per monitor
This measurement is based on a monitor depth of 3.5". The depth of the monitor will have a slight effect on the overall max dimension.
Note: Monitor width is measured from end to end of the monitor as shown at right
Vertical Range:
+/- 9" from horizontal
Horizontal Range:
27"
Rotation:
360 degrees at three joints
Monitor Tilt:
200 degrees
Cable Management:
Cables are concealed in arm
Mounting Options:
FLEXmount - six different mounting options in one kit, Slatwall, Wall, Thru-Desk, Pole Clamp Mount
VESA Compatibilty:
75mm and 100mm VESA adapters included. Please call for non-
VESA options.