Innovative 7500-Hydro Notebook or Laptop Arm - 27" Reach
We currently have 25 in stock.
Description
Innovative award-winning 7500 Radial Arm is a remarkable work tool. Effortlessly position your monitor exactly where you want it, and add flexibility to your work style. Suspend your flat panel above the desk surface and reclaim your valuable space.
7500-hydro features Innovative's patented HD tilter, a spring-assisted pivot for your monitor which makes monitor adjustment remarkably easy, even with large screens. Other features include cable management to route cables inside the arm.
Technical Drawing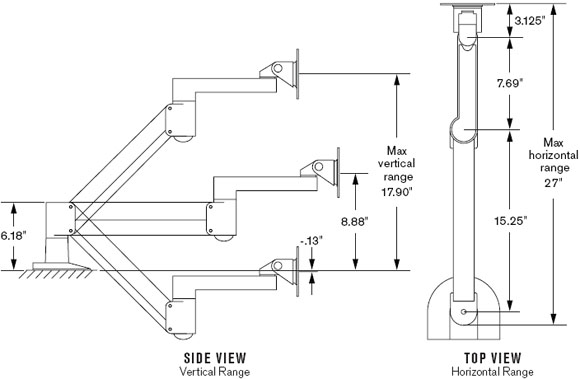 7500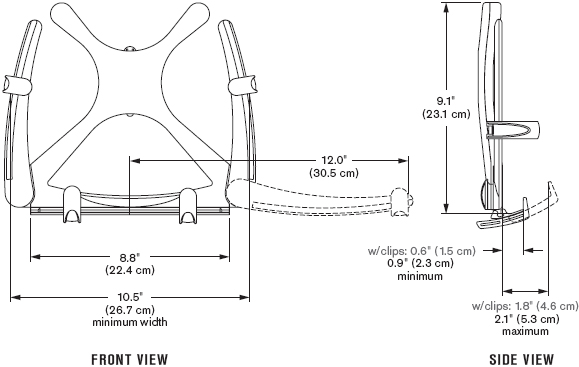 EVO-5501
Technical Specifications
| | |
| --- | --- |
| Vertical Range | 18" (45.7 cm), +/- 9" (22.9 cm) from horizontal |
| Horizontal Range | 27" (68.6 cm) |
| Rotation | 360 degrees at three joints |
| Monitor Tilt | 200 degrees |
| Monitor Pivot | Landscape to portrait |
| Monitor Compatibility | Compatible with all VESA monitors - Includes 75mm and 100mm VESA mounting plates. Please call for non-VESA options |
| Cable Management | Cables are concealed in arm |
| Mounting Options | FLEXmount, Slatwall, Wall, Thru-Desk |
Features
Includes our spring-assisted HD tilter for smooth monitor pivoting.
Monitor is rendered weightless by the arm.
Folds up to occupy just 3'' of space.
Monitor tilter mechanism can tilt over 200 degrees.
Cable management keeps cables tucked beneath arm.
VESA-monitor compatible - 75mm & 100mm VESA adapters included. Please call for non-VESA options.
Approved to AFRDI Standard 126:2001, Level 3.
Optional upgrade to quick install/release monitor bracket. Consult your sales rep for details.
Optional 6" extender tube available to raise monitor (see Extender Tubes under Available Accessories).
For use with laptops need hydro cylinder for more stability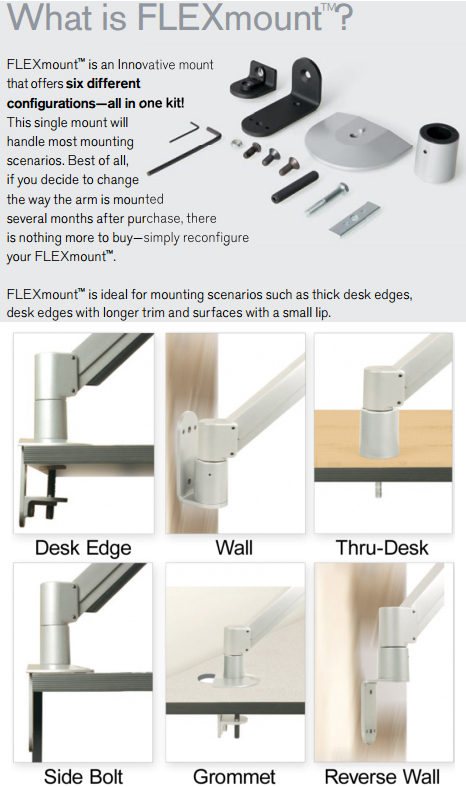 Related Products
| | |
| --- | --- |
| Part Number | |
| 7500-500-NM-hy | Vertical range: 18", Horizontal range: 27", Weight range: 1 - 14 lbs, No Mount |
| 7500-800-NM-hy | Vertical range: 18", Horizontal range: 27", Weight range: 5 - 25.5 lbs, No Mount |
| 7500-1000-NM-hy | Vertical range: 18", Horizontal range: 27", Weight range: 9 - 35 lbs, No Mount |
| | |
| --- | --- |
| Model | 7500-500-NM-HY or 7500-800-NM-HY or 7500-1000-NM-HY |
| Manufacturer | Innovative LCD Arms |
| Part Number | 7500-500-NM-HY or 7500-800-NM-HY or 7500-1000-NM-HY |
| | |
| --- | --- |
| Mounting Options | Desk |
| Mounting Options | Wall |
| Mounting Options | Pole |
| Mounting Options | Slatwall |
| Monitor Arm Types | Laptop/Notebook |
| Color | Vista Black, Silver and Linen White |
| Vertical Range | 18" (+/- 9" from horizontal) |
| Horizontal Range | 27" |
| Rotation | At three joints 360 degree |
| Tilt | 200 degree |
| Mounting Pattern | VESA 75mm and 100mm |