Innovative 7011-8252 Height Adjustable Laptop Arm with Oversize Tray
We currently have 25 in stock.
 

Highlights
Description
Notebook computers can be an ergonomic nightmare. As we spend more and more time hunched over while pecking at those tiny keyboards, our necks and backs pay the price.
Innovative 7011-8252 is just what you need to make your laptop user-friendly. Simply place your notebook computer on the holding tray; the arm renders it weightless. One-touch adjustment will change height or position. Finished working? Simply move it out of the way, or grab your notebook and go.
Accommodates notebook computers from 1 to 23 pounds. It's offered with an oversize 17"x10" tray. The computer can be secured to the tray with included velcro. Includes our FLEXmount kit, which provides 6 options for mounting the arm. 

Technical Specifications
Vertical Range

14"

Horizontal Range

24"

Rotation

360 degrees at three joints

Monitor Tilt

200 degrees

Compatibility

Holds notebooks up to 23 lbs (10.4 kg)

Notebook Tray Size

17" x 10" (43.2 x 25.4 cm)

Cable Management

Cables are concealed in arm

Mounting Options

FLEXmount, Slatwall, Wall, Thru-Desk

Monitor Weight/Model Number

1 - 12 lbs (0.5 - 5.4 kg) / 7011-8252-500hy
5 - 23 lbs (2.3 - 10.4 kg) / 7011-8252-800hy
Technical Drawing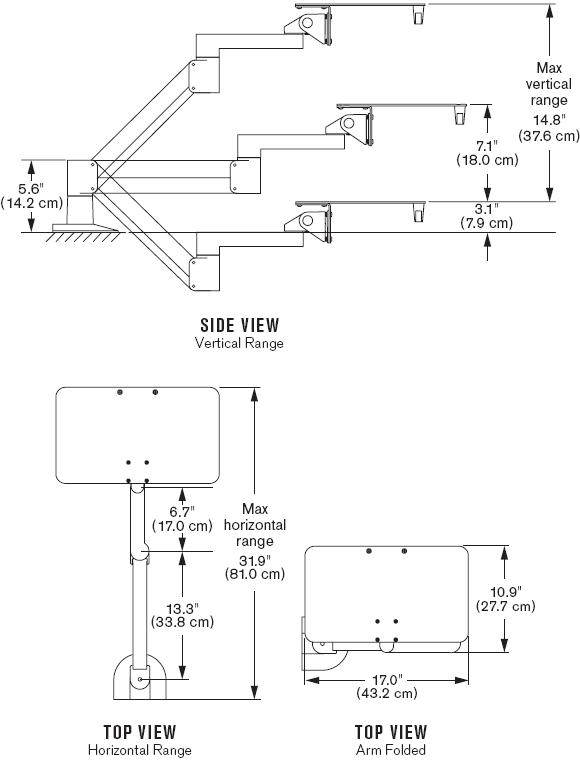 Features
Includes oversize 17" x 10" mounting platform to support notebook. (Includes velcro to secure notebook to platform)
Rotates 360 degrees at three joints
Monitor tilter mechanism can tilt over 200 degrees
Optional 6" extender tube available to raise monitor
Gas cylinder "floats" notebook above desk - instantly raise and lower notebook
Extends up to 24" (81 cm), with 14" (37 cm) vertical range and folds up to occupy 10.9" (28 cm) of space
Integrated cable management system keeps your work surface free of annoying cable clutter
Made of sturdy cast aluminum
| | |
| --- | --- |
| Model | 7011-8252-500HY, 7011-8252-800HY |
| Manufacturer | Innovative LCD Arms |
| Part Number | 7011-8252-500HY, 7011-8252-800HY |
| | |
| --- | --- |
| Mounting Options | Desk |
| Mounting Options | Wall |
| Mounting Options | Pole |
| Mounting Options | Slatwall |
| Monitor Arm Types | Laptop/Notebook |
| Vertical Range | 14.8" (37.6 cm) |
| Horizontal Range | 31.9" (81.0 cm) |
| Rotation | 360 degrees degree |
| Tilt | 200 degrees degree |
| Weight Capacity | Up to 23 lbs (10.4 kg) |
| Tray Dimensions | 17" x 10" (43.2 x 25.4 cm) |