Innovative 7000-T Flexible Height Adjustable Laptop Arm
We currently have 25 in stock.
Description
Innovative 7000-T combines our best-selling 7000 Arm with our award-winning laptop bracket. Create an instant height-adjustable docking station for your laptop! You'll save valuable desk space and work in greater ergonomic comfort. The 7000 radial arm enables you to quickly reposition the laptop with just one hand. FLEXmount, with 6 mounting options including desktop and grommet clamp, thru-desk bolt, and wall mounting are available.
Technical Drawing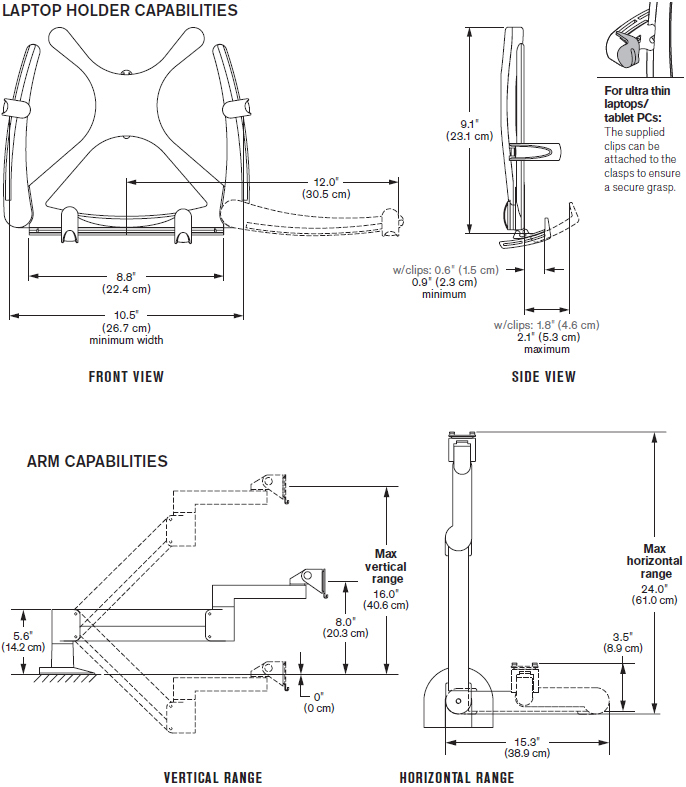 Video
 Technical Specifications
| | |
| --- | --- |
| Horizontal Range: | 24" (61 cm) |
| Vertical Range: | 16" (8" up and down from horizontal) |
| Rotation: | 360° at three joints |
| Monitor Tilt: | 200° |
| Cable Management: | Cables routed underneath arm |
| Mounting Options: | FLEXmount, Slatwall, Wall, Thru-Desk |
| Monitor Weight: | 3 - 15 lbs (1.4 - 6.8 kg) |
Features
Adjustable laptop bracket accommodates laptops of any size
24" of horizontal range
16" of vertical range (8" up and down from horizontal)
Folds up to occupy just 3" of space
Rotates 360 degrees at three joints
Monitor tilter mechanism can tilt over 200 degrees
Optional 6" extender tube available to raise monitor (see Extender Tubes under Available Accessories)
Mounting arm floats computer above desk - simply grab and move to desired position
Securely grips laptop with quick attach and release
Adjustable clasps allow free access to jacks and ports
When used with tablet PCs, enables one-handed use of the tablet
Integrated cable management keeps cords off the desk
| | |
| --- | --- |
| Model | 7000-T |
| Manufacturer | Innovative LCD Arms |
| Part Number | 7000-T |
| | |
| --- | --- |
| Color | Silver, Vista Black |
| Vertical Range | +/- 8" (20.3 cm) from horizontal |
| Horizontal Range | 24" (61.0 cm) |
| Rotation | 360 degree |
| Mounting Options | Desk |
| Weight Range | Supports 3 - 15 lbs (1.4 - 6.8 kg) |
| Tilt | 200 degree |
| Mounting Options | Wall |
| Mounting Options | Pole |
| Mounting Options | Slatwall |