Innovative 7000-Busby-8408 Dual Mount with Integrated USB Hub
We currently have 25 in stock.
Description
Now you can mount two of our best-selling innovative 7000 LCD Arms from one point on your desk. Effortlessly reposition each monitor with just one hand. You will free up desk space, even as you work in greater ergonomic comfort.
Combined with Busby, you no longer have to crawl under your desk to reach your PC's USB port! Busby places USB ports right at your fingertips, where they are integrated into your flat panel monitor mount. Busby provides convenient access to charge and power all of your USB-enabled devices, without consuming additional desk space.
Technical Drawing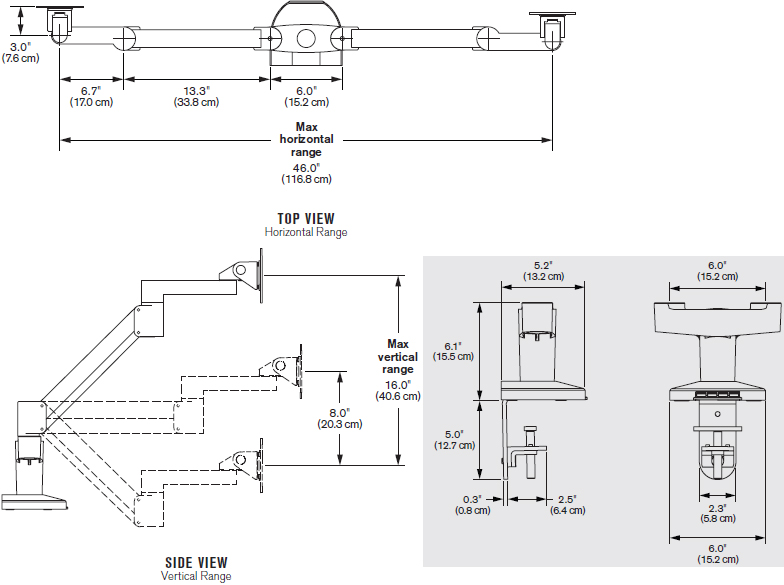 Technical Specifications
Vertical Range

+/- 8.0" (20.3 cm) from horizontal

Horizontal Range, per arm

24.0" (61.0 cm)

Rotation

360 degrees at three joints

Monitor Tilt

180 degrees

Monitor Pivot

Landscape to portrait

Monitor Compatibility

VESA 75mm and 100mm

Cable Management

Cables are concealed in arm

Mounting Options

Clamp to Desk Edge, Through Grommet Hole, Bolt Through Desk

Monitor Weight, Model Number

2 - 13 lbs (0.9 - 5.9 kg), 7000-500-8408-Busby
7.5 - 25 lbs (3.4 - 11.3 kg), 7000-800-8408-Busby
Features
Convenient access to charge and power all of your USB-enabled devices.
(4) USB 2.0 ports.
16" of vertical range per arm (8" up and down from horizontal).
24" of horizontal range per arm.
Extremely flexible positioning of dual screens.
Independently move and adjust each arm.
Clamp to desk edge, through grommet hole, or bolt through desk.
VESA-monitor compatible - 75mm & 100mm VESA adapters included. Please call for non-VESA options.
Video