Innovative 5501 Tablet PC/Laptop Holder
The product is out of stock
Highlights
Tablet or PC/Laptop Holder
Holds laptops up to 17" wide
Compatibility: attach to any arm with

 

75 x 75mm and 100 x 100 mm VESA

 

hole pattern
Weight of the 5501:

 

2 lbs
Please note that even if the color of the product in the image looks black, it is called silver because it is two-tone and back side is silver.
Description of Innovative 5501 Tablet PC Holder:


Attaches to arm via quick-install mechanism. Configures to support laptops or tablet PCs.
Discover a new way of interfacing with your tablet PC or laptop, the EVO Tablet Arm suspends your portable above the desk where it can be instantly repositioned for comfortable viewing. Combine with a wireless keyboard and mouse to create an ergonomic docking station for your computer. It`s an ideal solution for workers on the move. Improve productivity while working at your primary desk, then simply grab the computer and go when it`s time to leave.
Features of innovative 5501:
Adapts to support both tablet PCs and laptops.
Securely grips tablet or laptop, with quick attach and release.
Adjustable clasps allow free access to jacks and ports.
When used with tablet PCs, enables one-handed use of the tablet.
Allows tablet to be used in portrait or landscape position.
Mounting arm floats computer above desk - simply grab and move to desired position.
Arm extends up to 18", with vertical adjustment of +/- 5" from horizontal.
Integrated cable management keeps cords off the desk.
Mount clamps to desk or through grommet with integrated handle (may also combine with slatwall, slatrail or wall mount)
Technical Drawing for Innovative 5501 Tablet PC or Notebook Holder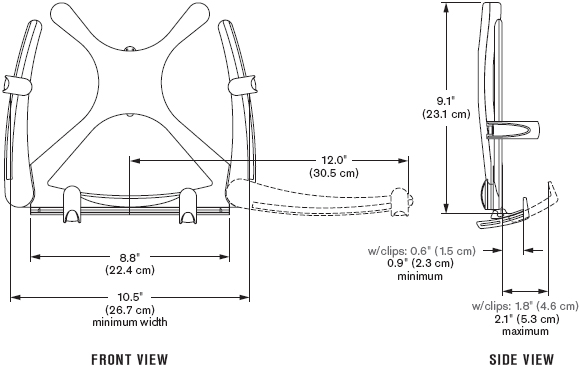 Specifications:
Minimum Width:       10.5" (26.7 cm)

Height:                      9.1" (23.1 cm)

Length with Clips:    0.6" (1.5 cm)

                                 0.9" (2.3 cm) Minimum

                                 1.8" (4.6 cm)

                                 2.1" (5.3 cm) Maximum

Supports:                 Tablet PCs and Laptops